SERVPRO of Paramus is the Number #1 Choice in Fire and Water Cleanup and Restoration for Paramus Businesses
8/3/2022 (Permalink)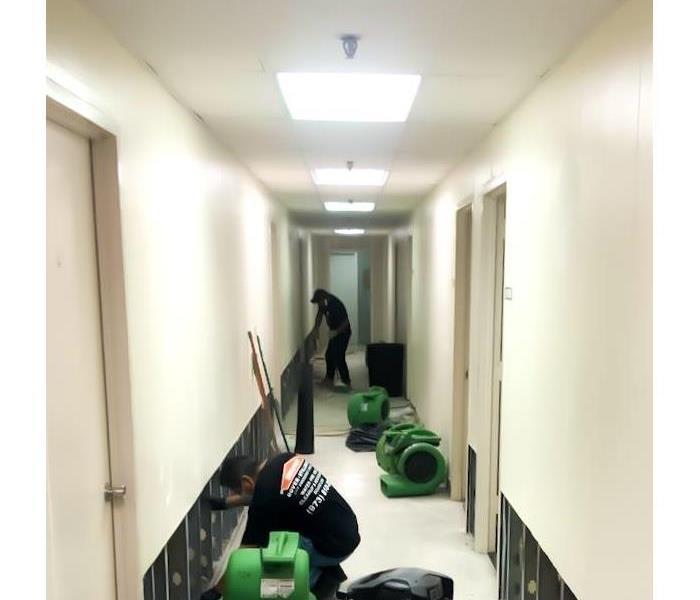 Whenever your business is affected by water damage, our experienced technicians will get the job done.
Why do Businesses Choose Us?
We are the primary choice for businesses in the area, since we are the leader in the fire and water cleanup and restoration. Our staff of professionals have the training and experience needed to get the job done quickly and to the satisfaction of our customers. Our entire process for handling losses is streamlined for efficiency with no compromise to the end result. Our objective is to get your business on track quickly to minimize the affect a loss may have on your business, since we understand that going through a situation that requires our service is extremely stressful at time. The SERVPRO team both office and field employees are here for you and to make sure your worries are washed away.
When Should You Call?
A business should reach out to us whenever they have or may think their property has been affected by water, fire, or mold damage. When your business is affected by water damage it has the potential of going unnoticed for some time depending on the cause. Water damage can happen from a large range of things such as leaking pipes, pipe bursts, failure/misuse of appliances, sewage backups, broken/unmaintained hot water heaters, storms, frozen pipes, the list can go and on. Then there is fire damage which can occur in a many different ways hopefully when it does happen no one gets hurt. Fire damage could be caused by faulty/damaged wires, appliances, mismanagement of equipment, arson, power surges, even something being burnt can lead to fire damage allowing soot to travel through the air and settle on everything in the affected area. Once the damage has been done in most situations it can't be done alone, that's why we offer our 24/7 emergency services, so you can call us and a technician will be sent to the affected property right away.
The Restoration Process
In most cases water and/or fire damage can be quite the load to handle and may require a lot more work than business owner may have initially thought. When it comes to mitigating these situations a large amount of the time it may require demolition to properly fix the issues especially if a large area is affected, it also depends the materials that make up the structure. A business in more extreme circumstances may need to shut down operations if the affected area has significant damage having a negative impact on the profitability of the business. This is why it's important to address the issue quickly. Once the affected area went through demo then the cleaning and drying process can begin along with sorting through the contents to determine what is salvageable and what can be claimed.