About SERVPRO of Paramus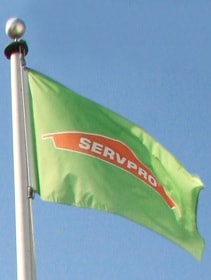 Anthony & Danielle Palumbo
Owners of SERVPRO of Paramus
Our History
SERVPRO of Paramus has been assisting families and businesses with home damages for over the last decade. SERVPRO of Paramus was founded by Owner, Tony Palumbo who opened its doors in 2007 after years in his parents carpet cleaning family business. He understands the stress and worry that comes with a fire or water damage and the disruption it causes to your life and home or business. Our owner isn't like most company owners that sit behind a desk all day. In fact, you will likely not find him in the office 99% of the time. Where you can find Tony is in the field managing losses alongside with our crew. You can trust that our team of highly trained individuals are out doing all that they can to ensure our goal is met. Which is to help minimize the interruption and havoc to your life and quickly make it "Like it never even happened."
Why SERVPRO?
SERVPRO of Paramus specializes in the cleanup and restoration of residential and commercial property after a fire, smoke or water damage. SERVPRO of Paramus can also mitigate mold and mildew from your home or business. Our friendly staff is highly trained in property damage restoration. Our team is sympathetic to any damages to your home because a water or fire loss is something that can happen to any of us. We all live in a home that at any moment can suffer an unexpected disaster. All members of our team have the credentials and experience from not only initial training but continued and ongoing training at SERVPRO's corporate training facility to regular IICRC-industry certification. You can rest assured our staff is equipped with the knowledge to restore your property. With a nationwide system of qualified franchises, no damage is too large or too small for SERVPRO of Paramus.
Our Commitment
SERVPRO of Paramus will keep your belongings safe. If your home or business needs to be packed out due to fire, water or mold damage we can handle it for you. Our over 14,000 square foot facility is temperature controlled and built to store your belongings. Whether for a week, month or year they're safe with us. We also have state of the art contents cleaning machines on site when your contents need to be cleaned. Our trained technicians will care for your belongings as if it was our own. Home damage can be extensive and there are some areas that require more special expertise. Anything outside of our realm will not be brushed off. We will get the appropriate personnel to handle anything that we cant. SERVPRO of Paramus is backed by 1,700 franchises nationwide making us capable to handle large scale disasters if needed.
Insurance and Payment Information
For a stress free claims process, SERVPRO works with your insurance to help manage the insurance process and paperwork.
We also accept the following credit cards for your convenience:




Certifications
ASD - Applied Structural Drying Technician
CCT - Carpet Cleaning Technician
ECTP - Employee Certification Training Program
FCT - Floor Care (Hard Surfaces) Technician
FSRT - Fire & Smoke Damage Restoration Technician
IICRC Certified Firm
LCT - Leather Cleaning Technician
OSHA - 30-hour General and/or Construction Industry Training Program
OSHA - Other Training
RCT - Rug Cleaning Technician
RRRP - Lead-Based Paint Activities and Renovation
UFT - Upholstery & Fabric Cleaning Technician
WRT - Water Damage Restoration Technician
Awards
Directors Platinum (Sales & Service)
Best Maintained Equipment
Millionaires Bronze (Sales & Service)
Best Maintained Equipment
Milionaires Gold (Sales & Service)
Millionaires Gold (Sales & Service)
Chairman's Bronze (Sales & Service)
Millionaires Gold (Sales & Service)
Chairman's Bronze (Sales & Service)