Preventing an Ice Dam
5/16/2018 (Permalink)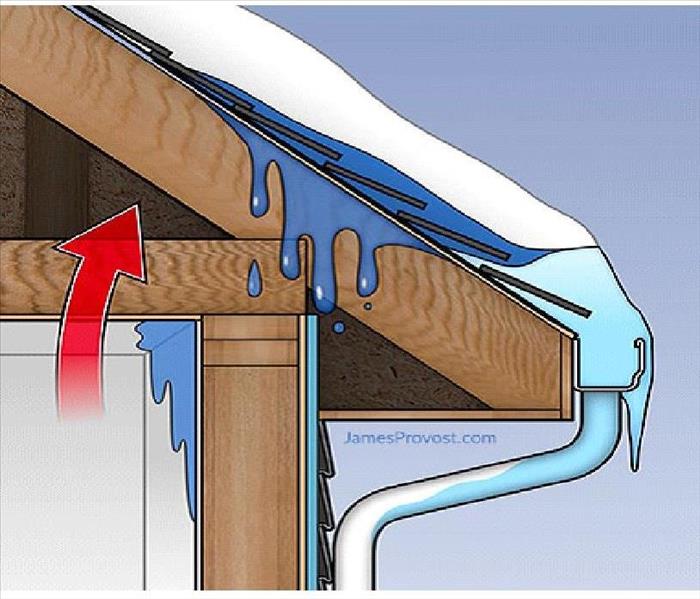 What is an ice dam and how will it affect my home?
Have you ever noticed those pretty icicles hanging off the edge of your roof after a big snowstorm? Although they are beautiful to look at (I guess that's why they mimicked them with Christmas decorative lighting) those icicles can cause some serious water damage to your home.
An ice dam forms when snow melts from the upper portion of your roof causing water to run down your roof and then refreezes when it reaches the edge causing an ice dam to form over your gutter backing up water from properly draining. This pool of water that gets trapped backs up under the roof shingles soaking the roof sheathing and eventually finds cracks in the roof where it leaks into the attic of your home.
Typically this is usually caused by poor roof ventilation, and a warm attic space. A clogged gutter system can also intensify the extent of the situation.
Some steps that can be taken to prevent this from occurring are:
1. Check attic to make sure it is in good condition. You can do this buy searching your attic for daylight through any cracks.
2. Keep gutters clear of debris. Make sure your gutter is draining properly. Remove any tree limbs that can come in contact with your home.
3. Keep interior roof structure the same temperature as exterior. This can be done by providing ventilation for continuous airflow under the roof deck. As far as the interior temperature start by removing any heat sources like un-insulated lighting or un-insulated duct work. Opt for sealed can light instead of recessed lighting. Also increase attic floor insulation to keep living area heating from rise to the attic.
4. Use a roof rake to remove snow (6 inches or higher) from the edge of your roof.
If you find yourself with water leaking into your home call us at SERVPRO of Paramus to handle your ice dam problems. 201-445-5588