Do You Live In a Flood Zone?
4/10/2018 (Permalink)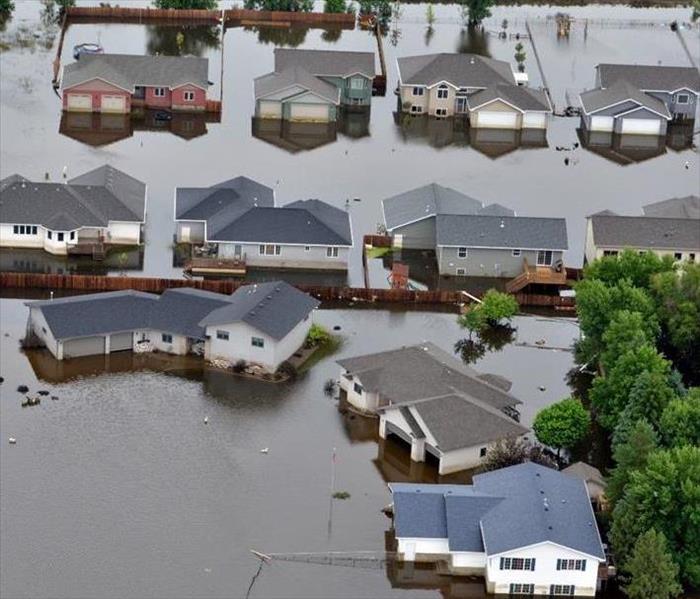 Unfortunately, there are some homes that are just more prone to floods that it is almost inevitable. Of course, the first option to fix the problem is to just pick your house up and move (literally), but not everyone has the ability to do so.
Here are some tips to help you prevent the damages resulting from a flood to your home.
1. Consider replacing building materials with water-resistant materials such as:
Galvanized nails - will not rust in a flood
Indoor/Outdoor carpet w/ synthetic pad
Synthetic baseboards instead of wood
Marine plywood-most water-resistant plywood
Metal doors & frames- will not warp, only rust which can be later sanded & painted
2. Have your washer/dryer in the basement? You may want to relocate them to the 1st floor or even just elevate them from the floor. (12" above 100-year flood level recommended). This can also be done with your hot water heater.
3. Raise all sockets, circuits breakers, switches and wiring to at least a foot above your expected flood level.
4. Install a sump pump. Sump pumps are the first line of defense in preventing water from seeping into basements. Also recommended to install a battery powered backup in case of a power outage.
5. Although expensive, raising your home with piers or columns so that the lowest level sits above flood level may be the drastic option needed if you live in a high risk flood zone.
6. Review your homeowners insurance policy. Did you know that most homeowner's insurance policies do not cover flood damage? Flood insurance is a supplemental policy you can purchase through an insurance agent or company.
7. Lastly, be prepared with a company you can trust like SERVPRO of Paramus that can help a devastating disaster like a flood become "Like it never even happened."