When Storms Bring Flood Damage to Westwood
6/22/2022 (Permalink)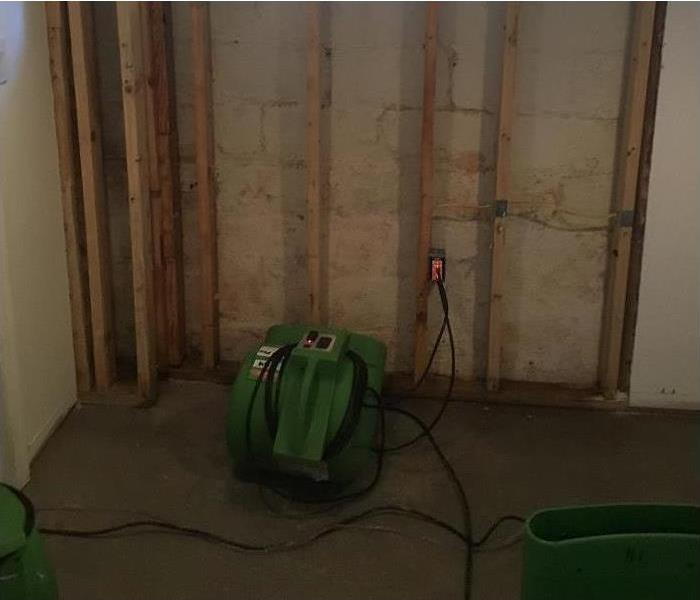 We recently restored this water damaged basement. We have the equipment and training to complete the job quickly.
Flood Damage Control and Restoration for Westwood Homeowners
Flooding has become more prevalent in Westwood in the last few years, thanks to the more extreme storms in our area. Unfortunately, removal and cleanup actions often take longer since this outside water carries contaminants not found in water when an inlet pipe breaks or a hose leading into a dishwasher bursts.
Westwood flood damage is rarely very greater than a few inches, so SERVPRO efforts focus on removal, disposal, and cleaning of the floors and any property on the floor when the water enters the home. Specialists begin with tools from our equipment inventory to remove the floodwater.
Since this is outside water, removal operations only begin after eliminating the initial health threat. Contaminants in the water would include soil, fertilizers, new pet waste, and even sewer waste if the flooding caused problems for much of the city system. After spraying an anti-bacterial spray over the water surface and affected items, they bring in water pumps and smaller extractor wands to rid the home of standing water.
Now comes disposal. Team members remove all paper and other items that can drip or bleed colors onto the hardwood or different types of flooring. If there are carpets, they remove them last so they can serve as a sponge to absorb colors. Carpet removal is necessary since SERVPRO cannot provide a 100% guarantee that it is safe to use again even after thorough shampooing with our most active cleaner.
Specialists then begin cleaning the floors and property with various chemical agents. A mild agent usually works for concrete, hardwood, and most other floorings, including linoleum and tile. For furniture such as dining room sets, they sparingly spray the wood with a cleaner and then wipe it off carefully with a sponge or cloth. If needed, they dry the item first to allow any varnish or other finishes to harden again and avoid streaking. If curtains or upholstery absorbed any floodwater, specialists would use a sprayer, and an upholstery brush was needed to work in the cleaning agent.
SERVPRO of Paramus is ready to help every homeowner and resident here or in Hillsdale, Washington Township, and Woodcliff Lake return home to its pre-damaged condition. If you need us, call (201) 445-5588 today. We are here for you.