Violent Weather Events Can Cause Extensive Damage to Paramus Properties
12/14/2020 (Permalink)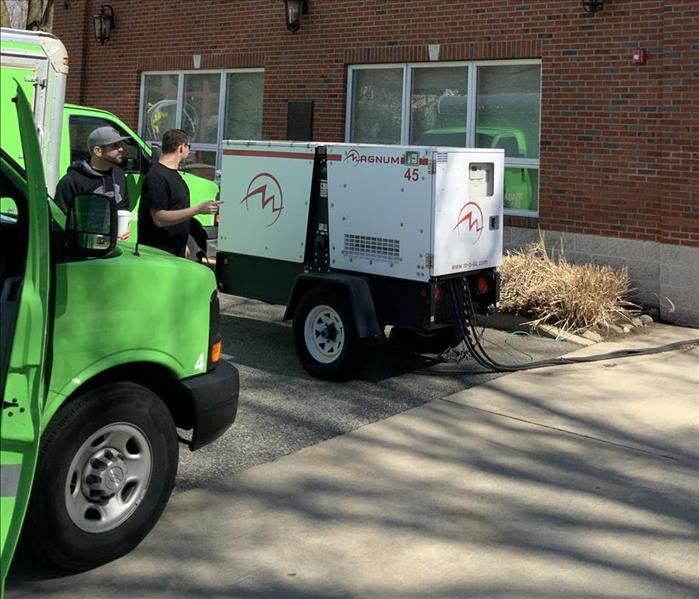 Count on SERVPRO for Commercial and Residential Storm Damage Mitigation in Paramus--We've Got It! Go shop at the mall!
SERVPRO of Paramus Can Mitigate Losses and Repair Damages in an Emergency
Paramus is a quintessential suburb of New York City. Situated just 8 miles away from Manhattan, the bedroom community here numbers 26,342 people. This area of the Garden State has a long history dating back to the arrival of early colonial forces from Holland and England. During the Revolutionary War, Paramus became a key staging ground for battles fought along the East Coast and was visited several times by the patriot forces leader, George Washington. The district was a former headquarters for Washington before advisors suggested he move to Westchester County. For most of the seventeenth, eighteenth, and nineteenth-century, this region was a rural farming community with a relatively small, light population of around 5,000 people. The primary focus on agriculture gave Paramus, and the surrounding area, a nickname of the Garden State. It was only by the twentieth century, and the building of the George Washington Bridge in 1931, that the region developed into today's commercial outlet. Infrastructural connections to New York City and an unregulated land development saw Paramus triple its retail outlets to 319 stores in the 1950s alongside three massive shopping malls. Today, it holds a reputation as both a commuter destination and a vibrant shopping district outside New York City.
The Garden State city of Paramus
is well-known as a shopping district. The earliest malls were constructed in the 1950s and 1960s, while local governments have brought in sales tax reductions and levies to encourage further business. Today, five shopping malls serve residents and tourists of Bergen County throughout the year. While the shopping destination does attract visitors and boost the local economy, there are efforts to prevent congestion or other high traffic areas for residents. The so-called blue laws restrict the trade of non-essential goods on Sundays, which have been enforced by the local government since 1957. Paramus is one of the last regions in the US to maintain strict regulation on Sunday trading. The only time these blue laws have been suspended was following the events of Hurricane Sandy in 2012. Charities, food, and medical stores are the only retailers that remain open during Sundays as a result of the blue laws in effect. Alongside Paramus's shopping districts are a significant number of theaters and cultural centers for the arts, which attract internationally renowned artists throughout the year.
Bergen County Zoological Park is located with the Van Saun County Park and offers 146 acres of parkland, forests, and waterways. The center also encourages entertainment for younger children with its playgrounds, Washington Spring Garden Train, and Millenium Carousel. The zoo opens from 10 am until 4 pm each day, with free admission throughout the year. Alongside the animals on show, the zoo encourages nature through several education programs, volunteer workshops, and displays.
The Garden State Plaza is home to some of the largest shopping malls in the region, including Westfield. These destinations cater to visitors throughout the day, with several food courts and hundreds of retail outlets selling electronics, fashion items, and accessories. Flagship stores include Lord & Taylor and Macy's, although many smaller gems are found here like the Timberland outlet. The mall also hosts a sixteen screen IMAX cinema.
Hyatt Place Fair Lawn Hotel in Paramus is one of the more popular mid-range hotels in the area and is ideally situated on Broadway Route North. The large property has several room types, TVs in all rooms, and a complimentary breakfast. It is located near enough to Manhattan and the Garden State Plaza to ensure that guests can experience both the big city and shopping destination without moving to the hotel.
Popular dining destinations in Paramus, NJ
The Capital Grille is among the standout food outlets from the Garden State Plaza. The menu is a mixture of fish, meats, and fried fish in the traditional American style. During the summer months, the outdoor patio is a treat for breakfast or lunch, while desserts are typically excellent.
Just down West Pleasant Avenue in nearby Maywood is the excellent Seafood Gourmet. The charming narrow restaurant serves a variety of freshly caught seafood. Seafood Gourmet has become something of an icon to the local community and delights visitors all year round with their range of traditional soups and salads.
In and around Paramus Road are two excellent seafood restaurants. The first is El Cid, which cooks up freshly caught in Spanish style and serves paella, among other seasoned favorites. Down the road is the Bonefish Grill, which offers refined grilled fish alongside a surprisingly good cocktail menu.
Large Weather Events Can Cause Damage to your Paramus Home. SERVPRO Can Help Secure and Restore your Property after a Storm.
Storm and flood cleanup is a time-sensitive task that requires experience working with residential properties in the area. SERVPRO has been helping residents recover after massive storm events like Hurricane Sandy in 2012 and can help protect your home in an emergency. Our first step is to secure the property against looting or further water intrusion. We can erect temporary tarpaulin to prevent additional rainwater from entering the property and boarding up broken windows or entrance ways. Inside the home, our team can quickly pump water out of the property, which reduces stress on the structure. Using our leading drying techniques, technicians can promptly guard your home against the secondary damages associated with water intrusion. Storm and flash flooding can have a devastating impact on your daily life. SERVPRO has both the resources and infrastructure to return your home to its preloss condition.
Our technicians are trained to work in biohazardous substance environments that are a frequent byproduct of flash flooding. Using our full range of disinfectants and cleaners, we can safely remove contaminated materials or restore property parts.
Crew chiefs can perform emergency pack-outs of the contents in your home following a storm event. Pack procedures can secure your possessions and store them at a climate-controlled warehouse while restoration of the structure begins.
Powerful submersible pumps can be deployed in the property to pass contaminated water and solid waste that may enter the home. Our extraction equipment is capable of removing hundreds of gallons of water at a time.
Storm-related incidents can cause havoc in a home environment. Contact SERVPRO of Paramus at (201) 445-5588.