What is the Fastest Way to Reduce Standing Water in a Property?
10/5/2020 (Permalink)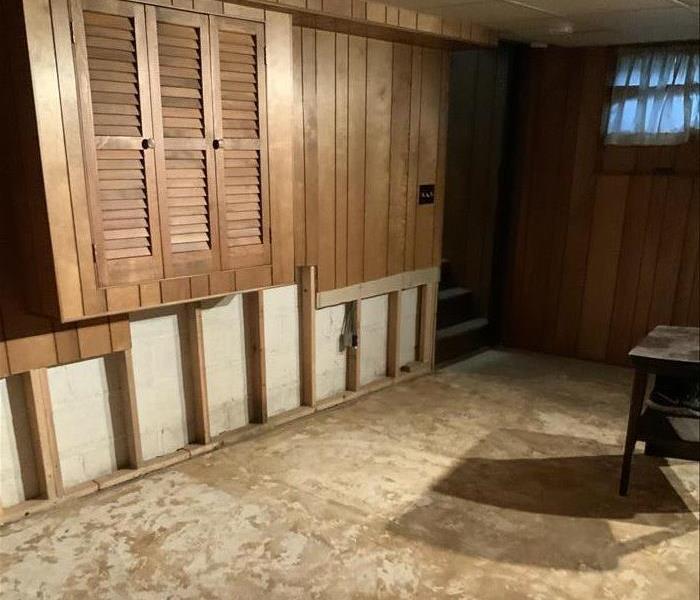 After pumping out the floodwaters, SERVPRO techs prepare this Paramus basement for a build back, clean and sanitary.
SERVPRO is a Professional Flood Water Removal Firm with Access to High-Powered Pumps and Extractors to Restore your Paramus Home.
What pumps are useful for property flooding?
There are a variety of pumps to choose from when restoring your Paramus home from water intrusion. The capability of a pump should match your requirements. Some situations may require pumps that can transport water a long distance. Other conditions may require pumps that can lift water uphill or remove water with solid waste.
Professional services can quickly assess the ideal type of pump for a flood situation in Paramus and use it as soon as possible. The capability of pumps is generally measured in lift capacity and volume. These measurements can be calculated against the architecture of your home to find the ideal solution.
What types of water pumps are used for flooding?
Self-priming trash pumps to remove water with solid waste.
High pressure pumps to transport water from below-grade levels of the home.
Electric submersible pumps which are commonly used and can transport water up to twenty-five feet away via a hose
Can water contamination affect pumps?
Contamination is present when performing flood water removal in your Paramus. Water flotsam and debris must be assessed before choosing the right type of pump. Solid-waste could clog up a pump or make it less efficient. Equally, the amount of standing water can be a critical factor in assessing the type of pump. Priming is required for most equipment to work. However, when standing water drops below two inches, the pumps may begin to take in air. We can combat this by using a diaphragm pump or relying on a different water extraction method after initial pumping.
What assessments are necessary before water removal?
The type of water source and the level of contamination
Whether the basement is occupied (electric pumps) or unoccupied (diesel pumps)
How far, and through what obstacles, does water need to be transported
A quick resolution to water intrusion can help to reduce losses significantly. Contact SERVPRO of Paramus at (201) 445-5588.