We Have The Proper Techniques To Restore Your Paramus Home After A Flood
3/4/2020 (Permalink)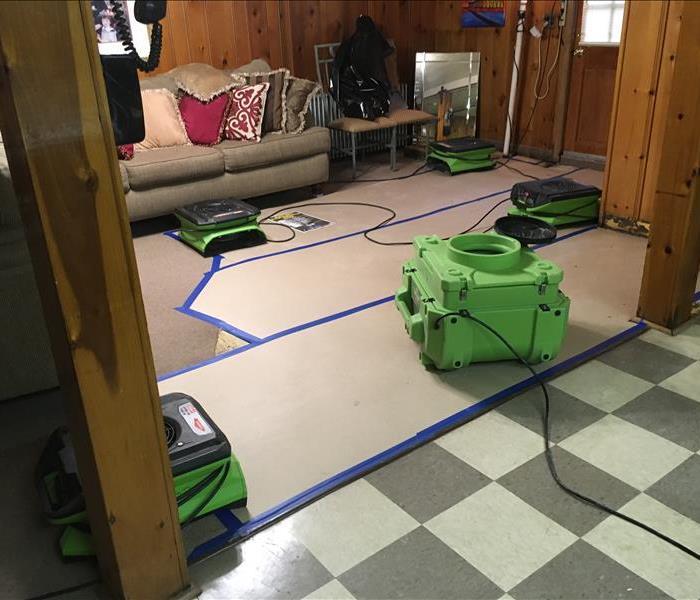 Common Questions When Paramus Homes Need Flood Damage Cleanup
Flood damage needs fast action. Even though SERVPRO techs get to each loss-site quickly, often in the four hours or less it takes them to come, much of the water has either receded into the walls or flooring.
Homeowners have questions about flood damage in their Paramus properties. That following are some of the most common situations that SERVPRO technicians encounter.
Should I Clean Up the Water Before SERVPRO Arrives?
It is fine to put down towels and rags to help absorb the water, however, until the techs get to the premises and test the water. Also, if there is any danger of slip and fall accidents, close off doors to the loss area in the home and wait for help to get there.
Does Carpet Require Removal?
If the carpet has floodwater, it usually requires disposal as a biohazard. The reason for this is because groundwater has the potential to contain a host of contaminants. When SERVPRO technicians work on flood damage, they wear protective clothing and commonly set up containment around the loss area to stop cross-contamination to other areas of the home.
Why is Sheetrock Cut Away From the Floor Up?
This is a controlled demolition technique known as "flood cuts." When sheetrock wicks water, it has no restoration potential. The technicians use their moisture detection equipment to measure several inches above the waterline and cut away the damaged portion of the building materials. This is a clean-cut that leaves the wall open for drying and makes repairs fast and easy. When the restoration services complete, the techs have a general contractor license #13VH001305854800 and can perform any necessary repairs to bring the house to its pre-flood condition.
Why Did Mold Grow on the Walls So Quickly?
After a water loss in a home, the interior humidity levels go up. As airborne mold spores are present indoors and outdoors, when they encounter these favorable conditions, they germinate and begin to spread rapidly. The techs use professional drying equipment and monitor the process to ensure the ambient humidity gets quickly lowered. Any existing mold growth also gets addressed, and treatments such as antimicrobial cleaners and sealants.
SERVPRO of Paramus at (201) 445-5588 cleans up flood damage of any size in properties and makes the water loss in the homes "Like it never even happened."
See more about Paramus.