Proven Tips to Remediate Fire Damage in Westwood
2/9/2020 (Permalink)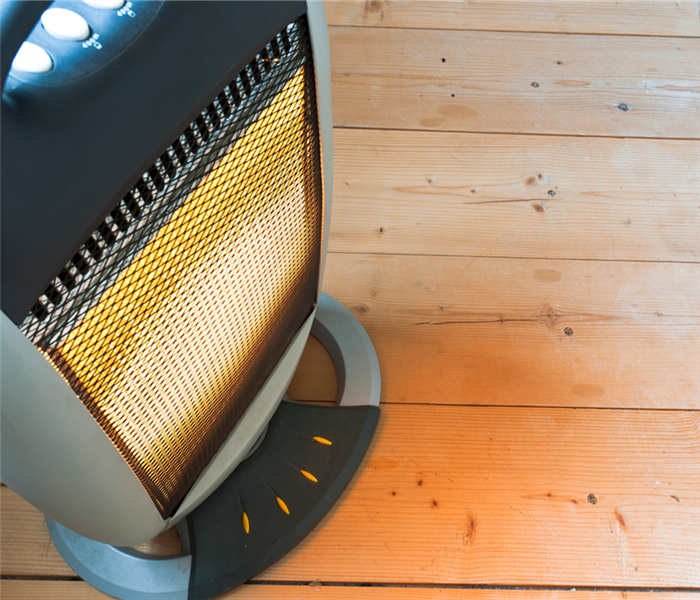 Take care when using a space heater in your home. Never leave anything on top. Contact SERVOPRO should that cause a fire in your living space.
Space Heater Causes Fire Damage in Westwood
Fall, winter, and early spring in New Jersey often have unbearably cold temperatures, and your heat may not reach your bedroom very well, primarily if you use a wood stove. Using a space heater can keep you warm, but often has some safety concerns. It is essential to turn off and unplug them at night. You should always plug it in by itself so that it does not share an electrical outlet while placing it on a level surface. However, even the best of us might fall asleep while using a space heater. Imagine that is what you did, and a small fire erupted. Before you quickly put it out, there are burnt curtains, bedding, and sooty walls.
Fire damage like this in Westwood is relatively common yet requires specialized cleanup to ensure your home does not have lingering smoke odors, and your walls are correctly cleaned. Cleaning in the fire damage restoration refers to removing smoke residues and then deodorizing smoke odors.
In this case, SERVPRO technicians remove burnt items such as curtains and bedding. It is imperative to remove these things quickly as they are sources of smoke malodor, and keeping them within the room hinders clean-up effort. Technicians remove other fabric and upholstered items to be dry cleaned or cleaned off-site.
Technicians capture other remaining residues in dry particulate form or in a solution using air and fluids to carry suspended particles. Dry particles are now loosely attached to surfaces and may be removed most effectively by vacuuming them away. Using wet cleaning products on dry particles creates a bigger mess and may force absorption into the item being cleaned.
Technicians dissolve the non-particulate residues and soil, such as soot, before they can remove them. It is ideal for dissolving the residues to loosen their bond, allowing them to suspend in a wet product before being flushed away while the cleaning product is rinsed or extracted from the surface being cleaned. The type of soil and surface contribute to dissolving ability. Soils can be water-soluble, while others may need a solvent-based cleaning product.
This type of small fire is relatively easy to clean up by taking the proper steps and using the right tools and products; otherwise, you may have to deal with the smell of smoke for weeks, or even months.
For 24/7 assistance after a fire, contact SERVPRO of Paramus (General Contractor # 13VH001305854800) at (201) 445-5588. We make it, "Like it never even happened."
Click here for more information about Westwood.